New VIVE PRO Upgrade And Wireless VIVE
New Hardware Raises the Bar for High-End VR Market, While All-New Viveport VR and Vive Video Dramatically Improves the way You Browse, Discover and Acquire VR Content.
Today in Las Vegas, HTC VIVE™, the leader in room-scale Virtual Reality (VR) announced new hardware upgrades that deliver premium VR experiences to consumers and enterprises with the introduction of Vive Pro and Vive Wireless Adaptor. In addition, the company debuted new improvements in how VR users discover, experience and acquire VR content through a radical redesign of Viveport VR and Vive Video. These advancements deliver on VR users' desire for higher resolution, improved audio, greater comfort, wireless freedom and immersive content discovery.
Vive Pro
Vive Pro is a new HMD upgrade from Vive, built for VR enthusiasts and enterprise users who want the best display and audio for their VR experiences.
Vive Pro includes dual-OLED displays for a crisp picture resolution of 2880 x 1600 combined, a 78% increase in resolution over the current Vive HMD.
This premium resolution enhances immersion for VR enthusiasts, and the improved clarity means text, graphics and overall experience all come into sharper view. Vive Pro also features integrated, high-performance headphones with a built-in amplifier to offer a heightened sense of presence and an overall richer sound. Vive Pro's new headstrap was built with enhanced ergonomics and comfort, including a sizing dial for a more balanced headset that decreases weight on the front of the headset. Additional improvements include dual microphones with active noise cancellation and dual front-facing cameras designed to empower developer creativity.
"There's a clear need in the VR market for a premium VR experience with high resolution display, integrated audio and the best components available today in a headset," said Daniel O'Brien, GM U.S., VIVE. "Vive Pro offers an immediate upgrade for both VR enthusiasts and enterprises that want to utilize the best VR experience."
More details on Vive Pro availability and price will be made available soon.
Vive Wireless Adaptor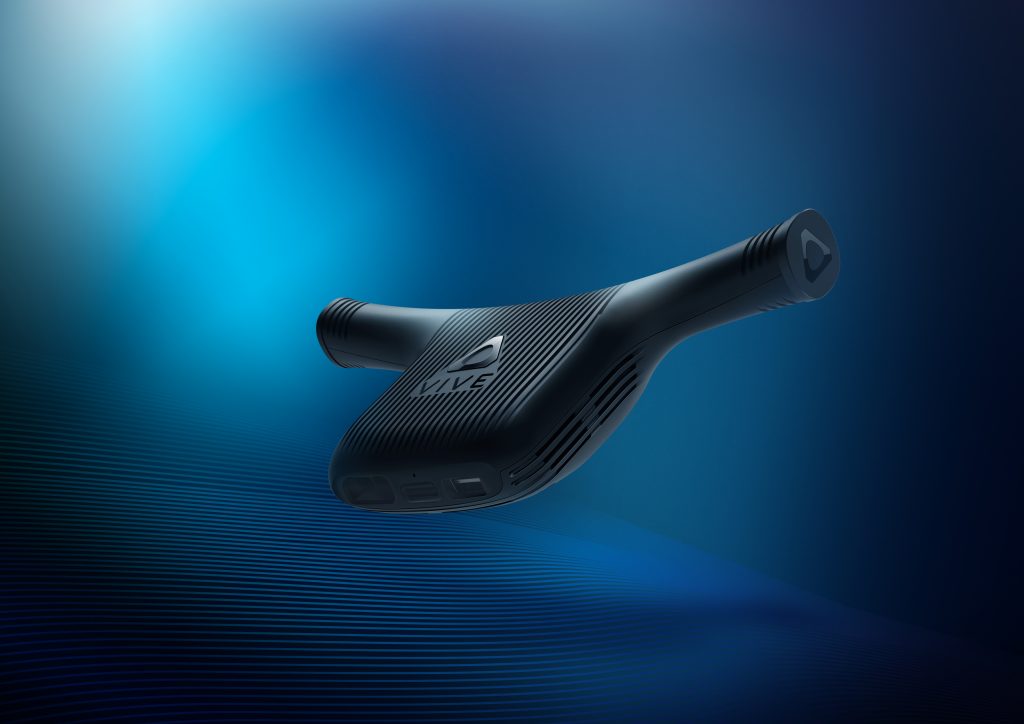 Also unveiled today, the Vive Wireless Adaptor will be the first to market with a truly wireless VR headset integration for both Vive and Vive Pro.
The Vive Wireless Adaptor features Intel's WiGig technology and offers a premium VR wireless experience that operates in the interference-free 60Ghz band, which means lower latency and better performance. The Vive Wireless Adaptor will ship in Q3 to customers worldwide.
"Wireless VR has been on nearly every VR user's wishlist since the technology was unveiled," said Frank Soqui, General Manager Virtual Reality Group at Intel Corporation. "By collaborating with HTC to commercialize Intel's WiGig technology, we will guarantee that wireless VR meets the most discerning quality bar for home users and business VR customers."
Viveport VR
In the largest upgrade to the Viveport customer experience since launch, Viveport VR redefines how users, discover, experience and acquire VR content. Instead of a traditional 2D catalog, Viveport VR content is delivered in fully immersive interactive previews. Viveport is embracing a VR first approach by including VR enabled "VR Previews," which are interactive glimpses of content that give customers a room-scale preview of an experience and the opportunity to interact with content before purchasing or subscribing.
"Viveport is moving to a VR first experience model, and with the all-new Viveport VR, we are changing the way consumers discover, experience and acquire VR content," said Rikard Steiber, president, Viveport.  "Until now, there has not been a shopping and browsing experience that takes advantage of the full functionality of VR. Available in early access today, Viveport VR increases interaction with content and offers developers a preview that showcases the quality of their titles and experiences."
Earlier this year, Viveport launched the world's first VR subscription service to provide a whole new way to access the best VR experiences for a great price. With more than 1,000 titles available on Viveport today, and more than 325 available for subscription, Vive is changing the way users browse and discover content through Viveport VR.
 Vive Video Includes Vimeo
Today HTC Creative Labs also rolled out an upgrade to its native VR video player, Vive Video. Vive Video solves the discovery and acquisition problem for VR video content by delivering a large catalog of high quality streaming video directly to VR headsets. In addition to new features and UI upgrades, Vive Video has integrated content from Vimeo, the world's largest ad-free open video platform home to millions of creators worldwide.
In the new Vive Video experience, a curated selection of Vimeo content will be made available to browse and view in a highly optimized native VR experiences within Vive Video-compatible headsets.
"Whether we're building our own tools in-house or partnering with other innovative platforms, Vimeo is committed to the future of storytelling and finding new ways to support our creators," said Christophe Gillet, GM of Vimeo's Creator Platform. "Not only does the integration with Vive Video showcase some of Vimeo's highest quality, human-curated content within the VR experience, but it also gives those creators an exciting new way to expose their work and engage with audiences."
Vive Video has consistently been one of the most-downloaded and highest-rated apps on the SteamVR platform, enabling users to view 180 and 360-degree video content. Vive Video is available today for both Vive and Google Daydream platforms, and will arrive on Vive Wave in the near future.